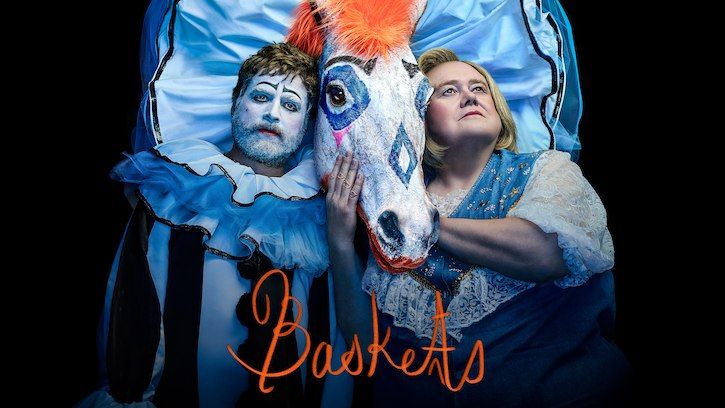 Episode 6 of Season 3 was written and directed by Jonathan Krisel; starring Zach Galifianakis, Louie Anderson and Martha Kelly. With guest star, the fabulous 92 year young, Eve Brenner as Mrs. Brooks.

It's Thanksgiving; a time to celebrate with family and friends, not to sue your Mama!

Instead, Christine is served with legal papers from Dale, Chip desserts her to spend the day at Martha's (who forgot she invited him), Eddie is rock-climbing with his AA sponsor and Cody and Logan's phone goes straight to voicemail.

After talking to Ken and his family, who treat Christine like family and wish she'd come to Denver, she tosses her turkey and all of the holiday decorations into the garbage.

Chip's French clown (cloon, what clown sounds like with a French accent) friends arrive in Bakersfield and bring Christine gifts (colorful macaroons), laughter and friendship; making her feel a part of their troupe. Though, she worries about her cat, Ronald Reagan.

"please don't juggle my cat!"

Martha's get-together is not going as well. Her mom and dad are fighting and Martha is cooking frozen tilapia and venison, from a deer her dad hit, for dinner. Chip is happy to see another family fighting.

He suggests that he and Martha exchange mothers. Martha: "I really like your mom, Chip."

He can't seem to get over his anger at his Mama for not believing in his clowning craft or for buying him a rodeo?

Christine shows the French clowns her home movies; lamenting her first Thanksgiving without her mother and shutting down when her father appears on the screen: "always yelling, always telling us what to do, telling my mother what to do."

The movies also make Christine miss her garden, her cat, Cat Nixon, and her twins being small boys: "it seems like a hundred years ago or just yesterday."

The French clowns put on a show for her; synching her home movies and the hymns she has been writing, to music and into a funny skit. They take her deepest pain and anguish, over her father, and make her laugh about it.

Chip returns home after watching football with Mr. Brooks and is thrilled to see his friends; introducing them to Renoir. They explain how it is offensive to them; that he should be a Bakersfield clown, not a French clown. "Renoir must die."

They have a ceremony, holding hands in a circle, burning the Renoir costume. The French clowns have brought another gift: marijuana. Christine wants to give it a try. Chip is not having it: "you're weird enough already, Mama!"

After hitting the French doobies, Mama tells Chip that he has real talent and she's just been wanting him to dig deeper; to get out of his cocoon. She DOES believe in him. Chip comes alive at her words.

The smile on his face says it all. Mama: "what or where would I be without you, Chip, just a lonely, old lady siting on the couch, you don't realize what you bring to my life."

Though, Mama has to break it to the clowns that she doesn't own the rodeo anymore, she's giving it to Dale. And, Chip isn't sure if Dale is hiring.

The episode ends with THE place to go for Thanksgiving dinner; Arby's. Chip's friend, the manager, opens up on the holiday. And, Mama thanks him: "don't thank me, ma'am, thank Arby."

Christine: "I thank Arby, everyday!"

For an episode that started out so sadly, it had a beautiful ending; with Mama, Chip and the French cloons sitting around an Arby's table, in friendship and communion.

Random thought: Of course, Mama believes in and loves Chip. Why else would she buy him a rodeo? Glad not to see Dale this week, I'm mad at him! You do NOT sue your Mama. Zach and Louie were amazing, as always. Love Mama's loyalty to the Republican Party.