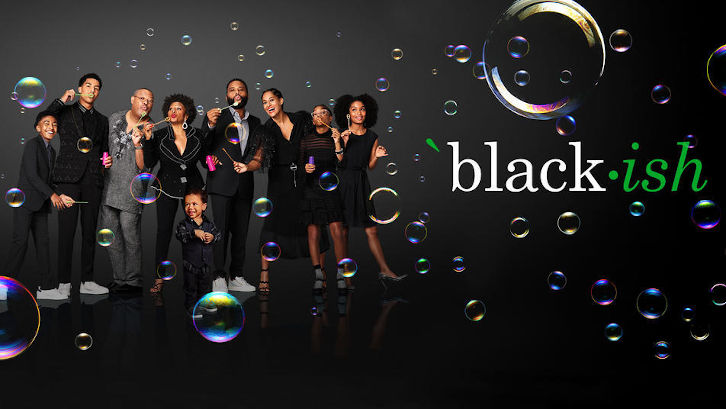 Throughout Black-ish's fourth season, the writers have taken the opportunity to use the arrival of the latest member of the Johnson family to examine Bow and Dre's occasionally conflicting beliefs about motherhood. Bow's struggle with post-partum depression was one of the most powerful episodes of the season, and the show comes back to that well as it chronicles her first day back at work.


Bow is looking forward to it. A quick flashback shows that she has never had a problem leaving her children for her medical career, and she has some pretty good reasons why. Despite Diane still being very, very mean and apparently collecting spiders for all sorts of nefarious purposes, the kids are doing great. Bow trusts that they will look out for each other.
Looking out for each other doesn't always mean taking the easy way out, as Junior tries to teach Diane and Jack in a flimsy B-plot. After Ruby tutors them in the ways of using white guilt to scam the system, Junior tries to impart the value of doing their own work. It's only when the twins get assigned a teacher who won't fall for their BS that they start to see Junior's point, and Junior eventually realizes that Ruby's own guilt trips are taken from old stories about the Jackson Five.
Meanwhile, Dre is spinning out. Bow being home full-time makes life easier for him. Unlike the PPD episode, Dre isn't overstepping his bounds because he's worried about Bow. He has his own idea about what Bow's day should look like and, despite the opening introduction chronicling the Rosie the Riveters of the WWII workforce, believes she would be happier at home. When Bow comes back, defeated after her coworkers freeze her out with new inside jokes, Dre's smile is pretty disturbing. Most of his comments about amazing comebacks are rooted more in obliviousness than actual malice, but they hit Bow hard all the same.
It all starts with another horrible idea from Dre's coworkers. They can't imagine ever working if they didn't have to and give Dre some advice rooted in the art of Japanese gifting etiquette. They believe that Bow really wants to stay at home, but won't be able to tell her husband until he asks her three times. While the concept works on Dre like a Jedi mind trick, Bow catches on quite quickly to his nagging. After the second ask, she decides to be amazing just to spite him. Cue a montage of Bow Johnson, the doctor who kills. In this case, it's just killing it at work, although Bow should maybe check on that guy who fell in front of the elevator.
When Bow comes back home basking in the glow of a job well done and patients knocked out, she's brought back down to earth by the adoption of a new family nickname. Turns out Boop Boop didn't like Bubba and now Bow has been frozen out of yet another insider moment.
Most of this episode didn't really work for me. Bow's PPD episode had conflict rooted in compassion. Dre honestly wanted to help her and, although she was initially nasty, Ruby eventually wised up to Bow's pain. This episode, on the other hand, has the Johnsons dancing around some regressive ideas about stay-at-home moms. Bow shouts at Dre that she doesn't want to become a kept woman, and Dre just keeps going back to how great it would be to have her at home. It takes to the end of the fight for either to actually acknowledge that being a stay-at-home mom is a job all its own. That, coupled with a supremely unfunny joke about Charlie being anxious about using the word "bitch" around Daphne, dates the episode and it's only a couple of hours old.
However, the show redeems itself in the end by focusing on the choice Bow is making. She isn't choosing to become a SAHM because Dre talked her into it, because she couldn't handle her career, or because she believes it's going to be a walk in the park. She's making the choice on her own and is excited about the possibilities of being more involved in her children's lives. It's a nice note to end the episode on, and an interesting shift for the show moving forward. Zoey, after one final scene at the Johnson house, is moving off to
Grown-ish
tomorrow, and the other kids are growing up as well. Bow's decision isn't the most major change
Black-ish
has introduced (especially because we didn't exactly visit her at work all that often), but it could definitely lead to some interesting situations in the new year. As for Zoey, we'll have to see how she adjusts to college tomorrow over on Freeform!
What did you think of tonight's episode? Let me know in the comments!