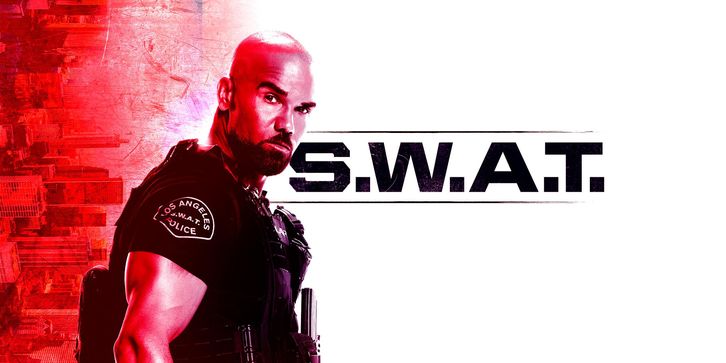 Episode five of S.W.A.T,
Imposters
, opens with officers using a car to scale a fence - except something's not quite right here, as the title suggests. The police we're following aren't as agile as those we're used to seeing, and their uniforms seem less than authentic.
When they burst into the Watsons' home during mundane breakfast conversations and threaten the family, the audience isn't as surprised by this turn of events as the Watsons.
Hondo (Shemar Moore) gives the briefing as Luca drives them to the location.
This scene offers a nice parallel to the pilot episode, in which Hondo was the one sitting with his eyes closed, being asked if he was with them. Now Hondo is the one on the receiving end of the snarky reply as he checks in on Street.
"You awake, Street?"
Hondo asks.
"Shoot anything that moves, got it,"
Street replies.
Street (Alex Russell) is the resident newbie, with the arrogance that tends to come with that, but he's also likeable. First impressions, in the pilot episode, weren't the most positive, but he's a character who's learning to be part of the pack, and who week after week is proving himself valuable.
In episode two,
Cuchillo
, we saw how he connected with Caspar, helping calm the child's anxiety. Street was the one who found Maya under the sign after the explosion in episode four,
Radical
, and throughout that episode it felt like he was finally gelling with the team. Thanks to Hondo's guidance, he's not as reckless now, less haughty, and is becoming part of this family.
There's a beautiful choreography to the action scenes that keep viewers engaged. Our SWAT team moves with seamless synchronicity as they check the interior of the family home and move up the stairs in search of the Watsons. Hondo and Street quickly subdue the father, whose first instinct was to protect his family, and find mother and daughter in another room, both terrified.
The rattled family is relieved the real police are in their home, and seventeen-year-old daughter Desiree hugs Chris (Lina Esco). The motivation behind this action, hinted at in Desiree's untucked clothing, is properly explained later.
As the family tells of their escape from zip ties, Desiree sits silent, and her body language, her parents' reluctance to properly explain their escape, is suggesting a sexual assault. Chris, likely the only one of them Desiree will now trust, stays behind to try and get more information out of the cagey family.
"work in the gray area".
"The less I know, the better,"
Hondo says before telling Street to go see his guys.
Hondo and Tan (David Lim, promoted in this episode to series regular) speak with another family in the neighborhood, the Kemps, who recently hired 24/7 security specializing in home invasion.
The timing is interesting, and that, paired with some damage to a door, allows Hondo to surmise the same thing happened to this family prior to the Watsons. And they too have a teenage daughter.
"It's a rough game. Injuries happen sometimes,"
Bobby's agent says, by way of explaining the player's on-ice behavior that led to him receiving the threats.
That's Eric Garcetti, by the way, the mayor of Los Angeles. And Bobby?
That's retired NHL player John Scott. Both deliver their lines a lot smoother than most non-actors manage, and are clearly having a lot of fun with their roles.
Bobby talks Deacon and Luca into hitting a bar with him, but it isn't the beer Bobby's most interested in partaking in. He riles up the fans at the bar, until it escalates, and Deacon and Luca step in to keep him from being hit. Bobby was a lot of fun this episode, on the ice, at the bar, and then later as he's watching the action from the police car Luca unceremoniously shoved him in to keep him safe. It brought a light-hearted, comedic edge to a tense episode, and helped break up the darker subject matter.
"Treat everybody better,"
Lacey demands.
Jessica doesn't bite back. Instead, she listens through the attitude to the words, which quietly nestle into both her mind and her heart.
Jessica recognizes the police need to be part of the solution, not part of the problem. She wants to do better by everyone, but Hicks (Patrick St. Esprit) is too hardened by this job to have any interest in helping beyond throwing Baliss a bone to get her off their backs. Jessica needs more than that.
She's going to need Hondo.
Street, Hondo and Tan track down the man responsible for selling the SWAT uniforms but they're called away when one of Street's jewelry connections – Will – has four guys trying to get some high-end items priced.
The action scenes in this show never let me down. Street driving is one of my favorite things, whether it's a car, or his motorcycle, the man's got mad skills. Maroon hoodie bad guy (T.C) who really should look before standing in the middle of the road, gets taken out beautifully by Street's driver-side door. And it's no surprise to find that T.C's backpack is full of stolen goods.
"That jewelry you bought off them last week, I'm gonna need that,"
Hondo tells Will.
"All of it? Can I get a receipt?"
The look Hondo and Street share silently answers that question.
I like Will and I hope he pops up again in a future ep. He's all kinds of fun.
Chris gently coaxes the story out of the girl, who is now a little more open to talking. She finds out the men had Desiree remove her clothing and forced her to speak into the camera about her sexual history and fantasies, blackmailing her with the footage by threatening to put it online for all to see should she talk to the police.
The same thing happened to the Kemps daughter, Laura.
Concerned another teenage girl named April is next, the team heads over to her home.
If I were April, and Street was standing in my kitchen, I would not be looking at my phone. However, her disinterest is due to her being distracted and she tries to do a runner, but Hondo's smarter and stops her from driving out of the garage.
April's not the sweet little thing she appears.
While being questioned, words leave her lips that suggest these girls aren't people she considers friends. There's too much bitterness in her voice. April believes she's been wronged by these girls, believes they had put up (or not taken down) photos of her on a "slut board", and had flirted with her boyfriend, Corby. She's holding grudges; she's got a hit-list, and one by one she'll bring them down and exact her revenge. There isn't an ounce of remorse in April.
And next on her hit-list is Corby.
This SWAT team is a cohesive unit and they make it all look so effortless as they burst into Corby's family home and track down the two remaining suspects, while keeping the family safe. One suspect is shot, one surrenders, and SWAT's job is done.
Later, back at headquarters, Jessica and Hondo discuss how to help the communities where crimes aren't solved as fast, where the people don't complain because they're used to being overlooked. Jess was always supportive of Hondo's need to bridge the distance between the community and the police, but now she's actively wanting to work with him to do this. Their romantic relationship might be a bit rocky due to fraternization rules, but professionally they work exceptionally well together, keeping home life separate. Moving forward, watching them work as a team on this should make for some wonderfully emotional story-telling.
"We're gonna change things for the better, Jess. Together. And we're just getting started."
And, oh yes, they are. Congratulations to the entire SWAT team for the full-season pickup!
The team comes down to watch, cringing as Deacon is slammed into the glass, laughing as he shakes it off, and it's a fun ending to another excellent episode.
Having read this review, you've likely watched the episode, but if you haven't yet, or any for that matter, all five aired episodes are available at cbs.com, and you've got time to binge them and catch up before Thursday's new episode at 10/9c. SWAT is an action-packed addition to the Fall line-up, but it's a show with heart too, and with likeable characters who are working towards making positive change.
Are you watching SWAT? Or is it on your 'to binge' list? Let me know in the comments below.