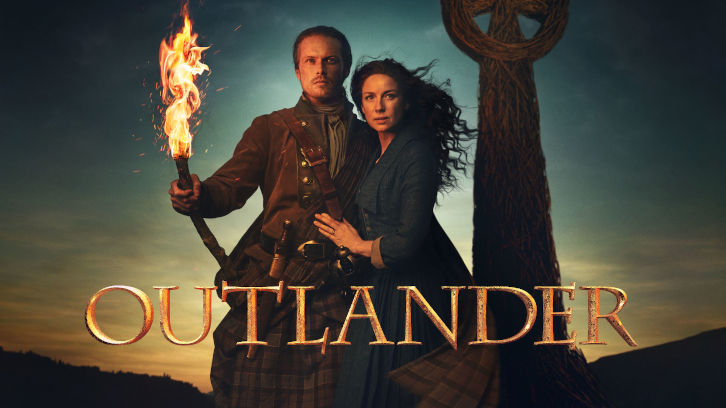 I started working on my review for Uncharted and not until I went to save the file did I realize I had not written the review for Heaven and Earth. This year is the first that I have hosted Thanksgiving. I belatedly realized with all I had to do I had basically taken the holiday off. Therefore, this is a double review of the two most recent episodes.

In Heaven and Earth Claire accepts that she's been pressed into service on board the Porpoise, struggling to stop the spread of the disease before more men get sick. While Claire fought the epidemic Jamie was trying to figure a way out of the brig on the Artemis so he could get to his wife.

The most distressing thing about Jamie's ordeal was that Mr. Willoughby had to stop his acupuncture treatment for his seasickness. Jamie tries to get Fergus to help him stage a mutiny. Jamie is too emotional to be rational about the situation.


If their mutiny attempt fails he and Jamie would be killed and Marsali would be at the crew's mercy. Fergus is willing to give up his chance to marry Marsali in order to protect her.
It's Marsali that gets Jamie out of his brig. The captain needs every man on board the ship to get them though a difficult area. Marsali knows, and assures the captain, that if Jamie gives his word he'll keep it. She also puts Jamie in his place when he foolishly doubts Fergus' loyalty. Jamie finally gives the two his blessing.
On the ship Claire's understanding about disease vectors and carriers leads her to figure out who the carrier is: a Typhoid Mary, if you will. He's the only man on the carpentry crew who didn't get sick. Everyone he worked with died.
Unfortunately, he's now working in the galley fixing food for the men on board the ship. Captain Leonard is smart enough to listen to his expert and has the man removed from the galley. The bad news, for the sailor, is that he's placed in the brig.
Claire's shipboard off hours weren't wasted. She discovered that Leonard had been told, by Harry Tompkins (the man Ian found in Jamie's print shop), who Jamie was. She realized the young captain was planning to have Jamie arrested when they got to Jamaica.
She needed to get to Jamie before the ship reached Jamaica to warn him. What's a woman to do? Why jump overboard of course. (In fairness, Claire tried to escape while they were onshore, but Leonard caught her.)
So…Claire jumped into the ocean and tied herself to a couple of kegs. It's a shame she couldn't have stolen a rowboat. She said she floated longer than she expected, so Annekje's knowledge of the currents wasn't perfect.
), but while she was trying to light that fire it seemed like despair was threatening to take over.
Father Fogden came to Claire's rescue. Claire's reaction when she realized he was talking to a coconut was priceless. She was still struggling to convince the Father not to put off taking her to the village where she hoped that she could find passage to Jamaica, so she could prevent Jamie's arrest, when Mamacita returned, condemning the Chinese sailor who killed one of their goats for food.
The Artemis ran into bad weather, which left the ship with a broken foremast and some dead crewmembers, including the captain. They fixed it and were about to sail into the open ocean when Claire got Jamie's attention.
Their reunion was everything a lover of romance would want. I couldn't quite tell if Jamie was impressed or confounded that Claire had jumped overboard. I suspect he was impressed.
I'm really happy that they didn't change the ceremony from the book. Fergus' reaction to being officially claimed as a Fraser was wonderful. The joy on his face…such a sweet moment. It seemed a shame that Fergus and Marsali didn't get to spend their wedding night on dry land.
The wedding also led to Marsali beginning to soften towards Claire.
Later, on the ship, Claire was enjoying her heavily spiked turtle soup. Not sure how many bowls she had, but she was pretty toasted when Jamie walked in. He was sent to retrieve the penicillin because realized an infection had started. Jamie volunteered to help her prepare the syringe and give her the injection. The way he was holding that syringe made me glad he couldn't give her the shot. I honestly thought he would have driven the entire thing through her leg if he'd tried.
I thoroughly enjoyed both episodes. There were some really nice moments in
Heaven and Earth
. The burial scene for Elias' best friend and Claire participating in the same ritual for Elias were especially touching for me.
I am so happy the episode ended with the Turtle Soup Scene. It may seem odd, but I found the scene incredibly romantic. Terrific way to end
Uncharted
.
Please let me know what you thought about the episodes.