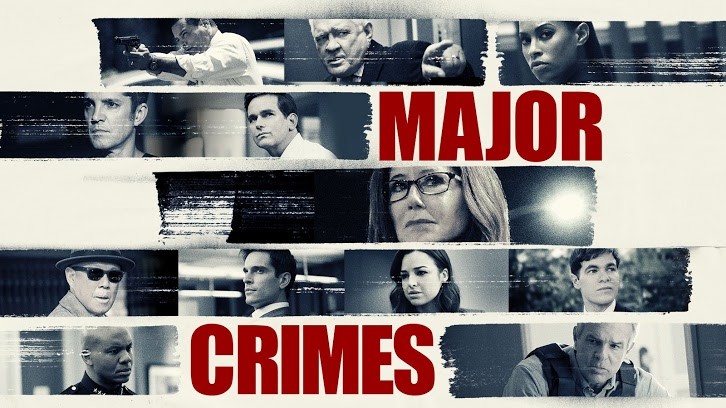 The opening chapter of "Conspiracy Theory" grabbed me a lot more quickly than "Sanctuary City". I'm sure most of it has to do with a fairly entertaining gaggle of suspects.
A high profile attorney, Bonnie Pearl, is found shot to death in her car. It initially looks like there were two shooters. But after ballistics takes a look, it seems, to my eyes at least, that we're dealing with a killer who had to scavenge for bullets. Although, Flynn seems to think it's more of a matter of stupidity.
I suppose, in the real world, all cases start out the same way. The detectives have to talk to suspects, witness, run forensics, etc. For this episode the suspects are a rather quirky group that took me back to the types of personalities the Major Crimes Unit dealt with when it was the Priority Murder Squad.
So far we've got the victim's son, a guy who wants to be as good a lawyer as his mother, but simply doesn't have the brains to pull it off. There is the man at the root of the huge case Bonnie Pearl was working on when she was killed, Craig Curtis, and a director (Erik Walsh), who lost everything when he lost his case and started stalking her, her ex-husband and likely a few more before an arrest is made.
Given the humorous aspect of the case, they decided to go the humorous route with the male detectives. Andy did that thing where he realizes what he just said about "Tackles"
Breastraunt
, in front of his brand new wife, and started back-peddling. Sanchez was, I believe, the only one not to stick his foot in his mouth during the full episodes.
Detective Nolan decides that the middle of a murder case is the perfect time to meet women who do not have swastika tattoos. For some reason that seemed just a shade out of character. It didn't work for me as well as much of the other humor did.
As entertaining as this collection of suspects was, Rusty's story had my attention. Gus stopped by to return Rusty's stuff, and Rusty, being the mature guy that we all know his is, decided to be a d***.
He kept crossing the line from hurt to d*** when he did things like awkwardly redirect the conversation into an attack on Gus. Gus tells Rusty that he was fired after he broke things off with Aiden, and Rusty responds by asking Gus exactly how many times he had sex with Aiden. Um...really?
Rusty was all over the place, emotionally, with regard to Gus. But as jarring as some of Rusty's conversations with Gus were, they felt true. It bugged me because, as I've mentioned before, the evolution of this character has been a major reason I watch the show.
I enjoy watching Rusty make the decisions that exhibit how he's grown and matured. It bummed me out that he do end the relationship with dignity.
When Rusty learned that Aiden had broken the law when he tanked Gus' career, it became evident that he cares for Gus. When Gus refused to fight for himself, Rusty took matters into his own hands. Man, that kid has been studying at the feet of the people who raised him. He handled Aiden as well as any member of Major Crimes handles a difficult suspect in an interrogation room.
Aiden thought he was dealing with the kid he intimidated into letting Gus go to Napa, but that was most definitely not what he got. It was a thing of beauty.
I enjoyed the episode. There were several characters I look forward to seeing more of: Jerry Pearl and Erik Walsh to name a couple. Did you have any favorite scenes or moments?
Favorite bits:
The sequence of clips of Erik Walsh stalking Bonnie Pearl was hysterical. That is a dude whose luck has run out.
Andy
finally
snaps at Tao when he drops a movie related comment.
Ronnie O'Hara!
Rusty getting the severance package for Gus.