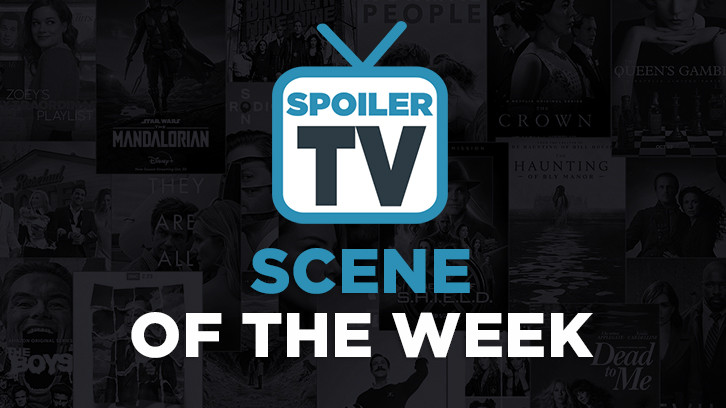 A weekly feature in which we're trying to find the most compelling, best acted, written, directed and just generally great, memorable scenes that we've seen in past seven days on TV.

AMERICAN HORROR STORY: CULT, "Drink the Kool-Aid", October 31, 2017, Actors: Sarah Paulson, Alison Pill, The Scene: Ally kills Ivy by poisoning her (picked by DarkUFO)

FRESH OFF THE BOAT, "Four Funerals and a Wedding", October 31, 2017, Actors: Hudson Yang, Forrest Wheeler, The Scene: Eddie and Emery talk about being big brothers
Dahne: I'll admit it. I usually prefer Jessica's scenes to anyone else's in this show. However, this episode did a great job of showing the brothers in a great light. Once Emery realizes that Eddie bought a tie to replace the one Emery lost, he realizes that Eddie really can be a good big brother. Eddie, in return, sympathized with Emery going through puberty and says that they are in it together. What a great brother scene!

GREY'S ANATOMY, "Come On Down to My Boat, Baby", November 2, 2017, Actors: Camilla Luddington, Justin Chambers, The Scene: Jo tells Alex that she's decided to file for divorce from her husband
Max: She's had a really great arc so far this season, coming into her own as a surgeon and finally having her secret out in the open to Alex, Meredith, Ben, etc. Jo is the most confident that we've seen her since she was introduced, and there was a real sense of calm when she told Alex that she was ready to take her life back. It's great to see them both happy, and I was thrilled when Jo approached the lawyer about domestic abuse cases.

HOW TO GET AWAY WITH MURDER, "Stay Strong, Mama", November 2, 2017, Actors: Matt McGorry, Aja Naomi King, The Scene: Asher stands up to Michaela
Luana: I love these two, and Asher has grown on me so much, it was about time he confronted her, she had no real reason to hide everything from him and she really does need to stop taking him for granted.

LEGENDS OF TOMORROW, "Phone Home", October 31, 2017, Actors: Brandon Routh, Tala Ashe, Jack Fisher and more, The Scenes: Gumball forces Agents to perform "Singing in the Rain" & Zari and Adult Ray try to convince little Ray to abandon his friend
Milo: I loved this E.T. parody that the episode worked with and the highlight for me was Gumball controlling the Government Agents to sing so the two Rays and Zari could help him escape. This was such a cool scene, made all the more comical by Ray wanting to stay to watch them get to the good part.
Marko: Zari and Adult Ray try to convince little Ray to abandon his friend. Zari is a phenomenal character and the chemistry between the three of them worked freaking perfectly. I love when actors can translate a sense of intimacy and the three of them delivered.
Jennise: Gumball forces Agents to perform "Singing in the Rain". They got me. They set me up to believe the baby Dominator would, after being tortured, turn against humans. But nope...he made those agents perform "Singing in the Rain". Hysterical.

LUCIFER, "Welcome Back, Charlotte Richards", October 30, 2017, Actors: Tom Ellis, Tricia Helfer, The Scene: Charlotte breaks down in Lucifer's apartment
Justyna K: This was a very unexpected return. Not only the real Charlotte turned out to be a different person than I imagined but her new dynamics with Lucifer proved to be really interesting and full of potential. The scenes with Tom Ellis and Tricia Helfer continue to be some of my favorites on the show. In this moment Charlotte shows up at Lucifer's place with a completely wrong image of their relationship and once she realizes her mistake she admits how lost she feels and how much she doesn't remember. Her honest speech about someone taking over and slowly destroying her life was beautifully acted by Tricia Helfer. Charlotte didn't just lose the custody of her children, now she can't even visit them anymore. Always focused on the story of Lucifer's mom I never knew what happened to real Charlotte, yet with this one scene she made me truly care about her place in all of this. It was clear that Lucifer also felt affected by her confession so he helped her realize the truth about the hell she went through and offered to help avoid this fate in the future. Though they are not family anymore, the dynamics between these two still felt very familiar and I hope to see a real friendship develop for Lucifer and Charlotte. Especially considering the last scene in the episode, where Lucifer himself admits he feels responsible for everything that's happened to her and is motivated to help. Kudos to both actors & the crew for their fantastic work on bringing back an old, yet completely new character and making her story interesting right away. Can't wait to see what's next.

MR. ROBOT, "eps3.3_metadata.par2", November 1, 2017, Actors: Carly Chaikin, Grace Gummer, The Scene: Darlene and Dom talk in the bar
Max: The scene in the bar between Darlene and Dom, where Darlene says that once all of this is over, her involvement with the FBI will cause her to lose her brother and make her a target for the Dark Army. The world is caving in on Darlene, and this scene really let the audience feel the weight of it too.

STAR WARS: REBELS, "Flight of the Defender", October 30, 2017, Voiced by: Taylor Gray, Tiya Sircar and more, The Scene: Sabine and Ezra steal the TIE Defender Elite Prototype
Milo: Sabine and Ezra stealing the TIE Defender Elite Prototype was a cool scene that really stood out for me, especially with the ensuing dogfight that followed. It also acted as a way to continue to show Thrawn's ruthlessness and cunning in that he was willing to sacrifice the lives of his own pilots to see how well the Defender fared even when piloted by someone like Ezra as a testament to how good it could be in battle.

STRANGER THINGS, "Chapter Eight: The Mind Flayer", October 27, 2017, Actors: Noah Schnapp, Winona Ryder, Finn Wolfhard, Charlie Heaton and more, The Scene: Joyce, Jonathan and Mike try to get through to Will
Justyna K: This has been such a fantastic season, probably even better than the already great first one. All the actors did a wonderful job but I would like to highlight Noah Schnapp's performance and the scene where Will's family and best friend try to get through to him after he's possessed by the Mind Flayer. Each of the stories told by Joyce, Jonathan and Mike not only gave the actors a chance to shine but also showed all the little things that made their relationships with Will so important. Joyce is a great mom who fights with all her strength to keep her family safe, but she's also a proud mother who sees a true potential in her son and gives him the opportunity to be himself and focus on the things that matter to him. Jonathan is a supportive big brother who is always there for Will, he tells the story of the two of them building the Castle Byers together in the rain and reminds Will of the day where he played him his favorite song for the first time. And then there's Mike. I found Mike's confession to be especially emotional and Finn Wolfhard did a brilliant work in this scene. Mike admits here just how lonely he was before he met Will. The moment when these two met, it only took a minute for them to become friends. Will's not just Mike's first friend, but right here he's his best friend. And I loved watching the friendship between these two this season, especially after they were apart for the entire season one. Now knowing Will, it becomes very clear why everyone fought so hard to find him in the beginning of the story. And it only adds depth to all these wonderful moments. When all the memories of Will's past are shared, the look on his face shows the true struggle of his spirit. He wants so much to reach out to his loved ones, but is not able to say a word. The subtle trembling of his lips, the painful look in his eyes and all the other little expressions are played to perfection by Noah Schnapp. We only got to see a small glimpse of the actor's potential in season one but he's been a true revelation of season two for me. In such a talented cast he still managed to shine. Kudos to cast & crew not only for this one but all the other amazing scenes that made this show so memorable. Can't wait for season three already.

SUPERGIRL, "The Faithful", October 30, 2017, Actors: Chyler Leigh, Melissa Benoist, The Scene: Alex admits she wants to be a mom
Justyna K: This show is filled with many beautifully acted and emotional moments. Yet this one will probably stand out for me as one of the best performances on the series yet. It made me think of Kara's breakdown in season one when she's confronted with the truth about her mother and the theme of mother-daughter relationship is again at the center of this scene. After watching the school performance of young Ruby, Alex is no longer able to deny how much she cares about being a mom. Her relationship with Maggie means the world to her so she tried to deny her real feelings about having children in the future knowing that her love doesn't want any. It's such a heartwarming speech about all the little things that Alex wants to do with her future daughter but it quickly turns heartbreaking with her desperate "What am I going to do?" question. So many of the best scenes on the show has Chyler Leigh and Melissa Benoist in it. The sister relationship between Kara and Alex is one of the things most worthy of highlighting from the series and this moment is another proof of that. With Alex breaking down, Kara offers her support for her sister and the two are stronger together in the end. The speech itself was wonderfully written and it felt more relatable than I expected. It's tragic to see the meaning of this moment for Alex and Maggie but kudos to cast & crew for such a fantastic job with this confession. One of the most memorable scenes for me.
DJRiter: Season 3's return to these incredible Danvers Sisters' moments was never stronger than this incredible scene with one of the finest performances I've seen on screen this year from Chyler Leigh. You felt every ounce of Alex's pain as she tearfully confesses her deepest desires to Kara, all the while knowing what it could cost her. And Kara's reaction, with tears in her eyes. OMG, the feels! Any scene that pairs Chyler Leigh/Melissa Benoist (Alex/Kara) is golden but this one elevated this episode to a whole new level. There is not a better acting partnership on television today and I would seriously watch a series combined of just scenes between these two amazing actresses.
Jennise: Alex tells Kara she wants kids. It was a bad omen when Alex lied to Maggie about being okay with not having kids. But in this scene she realizes that she can't live with the lie and that it means she may have to let Maggie go. It was heartbreaking.

THE GIFTED, "boXed in", October 30, 2017, Actors: Sean Teale, Emma Dumont, Coby Bell, The Scene: Marcos and Lorna learn why Turner hates them
Luana: The whole roadtrip was amazing, the two work in perfect sync with each other, but this moment was a perfect example of how complex the war is. They were both frozen in their places when they learned about Turner's daughter but Lorna still knew they were always the ones that would lose if they didn't fight back. The Gifted is turning out to be one of the biggest surprises of the season for me and both Emma Dumont and Sean Teale are killing it.

THE GOOD PLACE, "Derek", November 2, 2017, Actors: Kristen Bell, William Jackson Harper, The Scene: Eleanor tells Chidi the truth about the tape
Klutzy girl: Eleanor tells Chidi the truth about the tape and they watch it. This is something I've been waiting for ever since the reveal and while it didn't go the way I thought it would, I'm excited for what's next. When Chidi told her he didn't feel that way about her now, it felt like a gut punch. I'm excited for the angsty slowburn that's about to ensue, however.

THE MIDDLE, "Role of a Lifetime", October 31, 2017, Actors: Patricia Heaton, Neil Flynn and more
The Scene: The Hecks imitate each other
Marko: This show always finds a way to take it to another level. Marvelous performance from the core 5 that had me laughing till the end of the ep. Still smiling while writing this comment.

THIS IS US, "The 20's", October 31, 2017, Actors: Mandy Moore, Sterling K. Brown and more, The Scenes: Rebecca talks to Randall and Tess & Rebecca misses Jack
Marko: Rebecca talks to Randall and Tess. An Emmy worthy performance, major kudos to Mandy Moore and the whole crew for creating this scene. The flashes back and forward were perfectly synced and the words that came out of Rebecca's mouth were beyond perfect.
Luana: Rebecca misses Jack. This show always gets it right and it nails perfectly how much and for how long loss can affect us. Every happy moment for the rest of their lives will be a little bit sad because Jack won't be there to share it with them. No more words needed.

WILL & GRACE, "Rosario's Quinceañera", November 2, 2017, Actor: Megan Mullally, The Scene: Karen talks to Rosario's coffin
Klutzy girl: After avoiding the whole funeral, she shows up after everyone leaves to grieve for her. Megan Mullally delivered some amazing acting during this scene, and Karen explaining that she's not going to the cemetery because she can't see Rosario be put in the ground hurt.
Dahne: Generally Karen is a brash character, so it was a great surprise to see her softer side. While she is initially reluctant to say goodbye to her friend, after everyone else leaves, she speaks from her heart. It was an awesome monologue and one of the most heartwarming scenes in all of Will & Grace.
Samantha: This whole episode got me really emotional, but this scene? It completely slayed me. Karen is always the brash character, so it was great to see Megan Mullally dig her heels into some really emotional material. Her speech was absolutely perfect & really resonated with me.