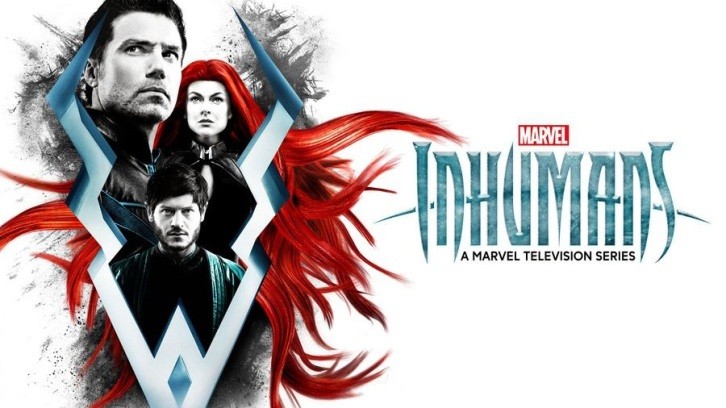 Inhumans
came to an end with "…And Finally: Black Bolt" written by the team of Rick Cleveland and Scott Reynolds and directed by Billy Gierhart, whose extensive credits include
Agents of S.H.I.E.L.D.
,
Once Upon a Time
, and
The Walking Dead
. It was interesting that there was no sign of Scott Buck on this episode as it's usual for the showrunner to write the final episode. I've put off this review in the hopes that there might have been some word on the status of the show, but it seems pretty unlikely that it will get picked up for a second season – and really? Is anybody actually sad about that? It might be interesting to see them turn up on a different show. There were certainly lots of hints that that might be a possibility, and wouldn't it be nice to see what some of these actors could do with actually decent writing?
The episode picks up with Maximus (Iwan Rheon) taunting them about the fail safe. He has to put his palm on the device in the control room every hour or Attilan will be destroyed. Funny we never saw him do this in a previous episode. Black Bolt (Anson Mount), Crystal (Isabelle Cornish), and Medusa (Serinda Swan) begin evacuating. Medusa goes to Louise (Ellen Woglom) who is thrilled to see her but really, really wants to go to the moon. Medusa explains that the dome is failing – it's not safe – and she needs Louise's help. Crystal goes to Eldrac (Moses Goods) who agrees to help.
Karnak (Ken Leung) and Gorgon (Eme Ikwuakor) end up in the quiet room together after they are both captured. Gorgon manages to see through the haze of his anger long enough to ask Karnak to help him, but he's clearly not in control of himself. Gorgon breaks them out. I haven't been impressed by Ikwuakor in the series, but I did like him and Leung together, and Leung really was outstanding. Karnak isn't able to find a way to stop the dome from collapsing.
Maximus taunts Black Bolt about not knowing his way through the tunnels and reminds Black Bolt that he'd promised Maximus that he could be King. In a flash back we see Kitang (Marco Rodriguez) tell the young Black Bolt (Lofton Shaw) that his gift would save the Inhumans from their greatest enemy – which we can only assume is Maximus. It comes out later in the episode that Maximus forged the document from the genetic council that said they recommended surgery on Black Bolt – and that's why he said "Why?" and killed his parents.
Maximus rallies his people to fight against Black Bolt after they rescue him and he discovers that Declan (Henry Ian Cusick) is incapacitated at the terregen crystals are gone. Medusa gets Louise to take her to her boss, George Ashland (Tom Wright). Medusa calls Crystal via Lockjaw in order to convince him that what they are saying is true. It's actually rather hilarious. He's convinced to talk to his mysterious boss – Tony Stark? Nick Fury? Coulson? Some kind of S.H.I.E.L.D. connection seems likely. The other tie in to S.H.I.E.L.D. is a mysterious reference to something happening in space – is it the Kree? Is it whatever took the S.H.I.E.L.D. agents at the end of last season?
Medusa leaves them with Louise and returns to Attillan. Medusa tries one last time to get through to Maximus and Auran (Sonya Balmores) acts as a go between. She offers him a single crystal. Maximus doesn't feel remorse for what he did to her. He wanted her to see what it was like to be stared at and dismissed. Medusa tells him if he really cared about Attilan he wouldn't destroy it. Medusa destroys the crystal, and Maximus orders Auran to kill her, but she won't because she promised her safe passage.
Medusa and Black Bolt address the people. They tell them that Maximus has forced them into an era of change, and they want to continue it but in a more positive way. They tell them that they have to go to Earth. As the city starts collapsing, Medusa tells them to go to Eldrac.
Medusa leaves the remains of Louise's father as she promised she would. Karnak promises to help Gorgon if he chooses to live, but he'll understand if he wants to die on Attilan – naturally, he ultimately chooses to live. Black Bolt stays behind to take care of Maximus as he finally sees that he can't leave him unchecked. Medusa, Crystal, Triton, Gorgon and Karnak all go with Lockjaw.
Black Bolt and Maximus fight it out in the control room. Maximus tells Black Bolt the truth and dares him to kill him, but Black Bolt simply punches him and locks him in the Bunker. He's got enough food and water for eternity. Bronaja (Ari Dalbert) did promise Maximus that he would be the undisputed King of Attilan and that Black Bolt would be gone! Black Bolt uses his power to collapse the building on top of the Bunker by saying "Goodbye, brother." He then runs to Eldrac – who is clearly also dying on the planet – and manages to get through via the last sliver of him. As Attilan dies, the runes on the throne glow blue – another Kree shout out?
On Earth, Medusa tells Black Bolt that he should be happy because he's saved the Inhumans. Black Bolt tells Medusa to do the talking – and she's clearly pleased that he's listened to her complaints about not being his equal as Queen. She tells the people that they've come back to their birthplace – as friends, not conquerors. She tells them that their future is uncertain but hopeful.
I'd say that the future of the series is uncertain, but not hopeful. Honestly, Mount and Leung were great, but I'd be happy never to see the rest of the cast again. Rheon quite simply looked like he had no idea what he was supposed to be doing or feeling most of the time – and I'm going to blame that on the writing. It's possible some of the other cast members suffered the same fate. What did you think of the finale? The series? Would you like it to continue? Would you like to see some of the characters pop on S.H.I.E.L.D. and if so, who? Let me know your thoughts in the comments below!