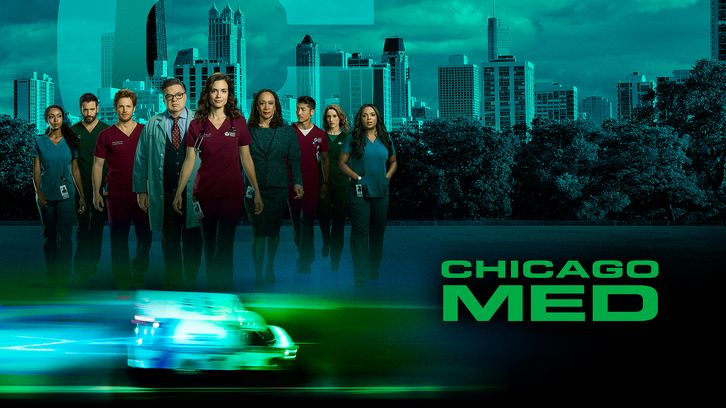 Despite a delayed fall premiere, Chicago Med returned tonight with a strong season opener. "Speak Your Truth" didn't waste much time in revealing whether Dr. Charles survived the shooting, and thankfully, he did. Following that initial scene, the series jumps ahead a few months and focuses on where the doctors are three months later. Dr. Charles is still struggling with the aftermath of the shooting, butting heads with both Reese and Goodwin in this episode. Relationship drama is also at the forefront with Connor and Robin adjusting to their new normal and April and Choi dealing with their new work dynamic now that they're sleeping together. We also get a major step forward Manstead front, which fans of the series have been patiently waiting two seasons for. So how will these new developments affect our favorite characters going forward? Let's dive in and take a look.


Chicago Med
's season two finale ended with Dr. Charles' life hanging in the balance after being shot. Fortunately, viewers don't have to wait too long to find out his fate, and I am happy to report, he survives. While I was more worried about who would survive
Chicago Fire
's explosive season five finale, I am nevertheless glad that Dr. Charles is out of the woods, medically speaking. As we saw in the season premiere, he seems to be struggling emotionally. The hospital staff knew he was going to testify at Jack Kellogg's (also known as the shooter) trial, but it comes as a complete shock to the Reese (and the audience) that Dr. Charles actually switches sides, so to speak, and testifies for the defense, arguing that Kellogg was legally insane when he shot Dr. Charles and then himself. Reese, of course, isn't exactly thrilled about Dr. Charles' "change of heart." She believes that while Kellogg was in need of psychiatric help, he didn't meet criteria to be deemed legally insane. She then goes and testifies for the prosecution, completely undermining Dr. Charles as Kellogg is found guilty. While Reese notes Kellogg will still get the psychiatric help he needs in prison, Dr. Charles counters that his chance of rehabilitation is virtually nonexistent and he'll probably end up dead in prison due to his temper.
Once Upon a Time
, it's likely that
Chicago Med
was only able to use her for a limited number of episodes. I'll be sad to see Robin go as she gave us a window into Dr. Charles' past and some character growth when it came to Connor. There's always a chance she could stick around, but I'm not confident due to where the story seems to be heading. With Robin gone though, it's only a matter of time before Connor and Dr. Becker hookup, right? I mean the sexual tension is there, and I can see them having some sort of fling or just a purely physical relationship that may evolve into something more substantial down the line. I'm all for Connor having some fun to mend his broken heart, but I'm going to need to see a different side to Dr. Becker before I jump on the bandwagon.
Chicago Med
for handling this subject matter with such care and attempting to educate its audience.
Scrubs
, but it's always tricky when a subordinate is sleeping with his or her superior. I'm assuming April and Choi's relationship will be a focal point this season, with it being only a matter of time before everyone at the hospital accidentally finds out. It'll be interesting to see how
Chicago Med
takes this trope and makes it their own.
Chicago P.D.
's fifth season. After the shooting at the hospital, Dr. Stoll wants improved security and a police to stand guard. Not a completely unreasonable sentiment in light of what happened to Dr. Charles. However, when a patient overstays his welcome after being discharged, Dr. Stoll is not happy. The EMT told Maggie the patient would mostly likely end up getting shot again if he was by himself. Maggie, being the kindhearted nurse that she is, decides to let the patient crash in the emergency department for another 24 hours, but Dr. Stoll isn't as understanding initially. While Dr. Stoll does sympathize, he said it's not the hospital's job to provide a safe haven, telling Maggie that they "treat 'em and street 'em." Not giving up without a fight, Maggie makes the argument that the streets Dr. Stoll and the patient live on are very different. Dr. Stoll doesn't have to worry about being shot where he lives, but there is a very good chance the patient will end up with another bullet somewhere if he goes home. She also makes a big push for how Dr. Still can take about improved security to the hospital, protecting the staff, but completely ignore protecting an innocent life. It's an interesting premise to consider about the reality of privilege when it comes to something as simple as safety. Dr. Stoll isn't afraid of walking alone at night in his neighborhood, taking something as pedestrian as that for granted. Maggie has been exposed to the realities and violence on the streets. She understands what is at stake, explaining her passionate plea. In the end, Dr. Stoll sees the value in Maggie's argument and lets the patient stay. I'm curious to see if
Chicago Med
will continue to tackle potentially controversial philosophical arguments in the future and think this could be a fascinating direction for the show.
live happily ever after
; if only it were that easy. The show's staple will they won't they couple are finally together, but it may not necessarily be smooth sailing. Besides the complications of dating a co-worker, Natalie also has a son which factors into the equation. These two will probably have to face a few hurdles before getting their fairytale ending, but I'm rooting for them. At least one of the Halstead brothers deserves happiness.
Some stray thoughts:
- While it was nice that we got a cameo in the form of
Chicago Justice
's Peter Stone, Philip Winchester's character didn't have any dialogue. Was it even worth the effort or did his lines end up on the cutting room floor.
- Reese mentioned her dad who she hasn't seen since she was six during the premiere. With the news that Michael Gill will recur as her estranged father, how soon should we expect this family reunion?
- Also, it looks like the Reese/Noah romance is a slow burn.
So hit the comments below to let me know what you thought of the premiere. Will Dr. Charles eventually go off the deep end? Is this the beginning on the end for Connor and Robin? Can Dr. Becker just disappear into the hospital abyss or be transferred to Lakeshore? Which couple will have the hardest time this season: Manstead, Connor/Robin, or Choi/April?