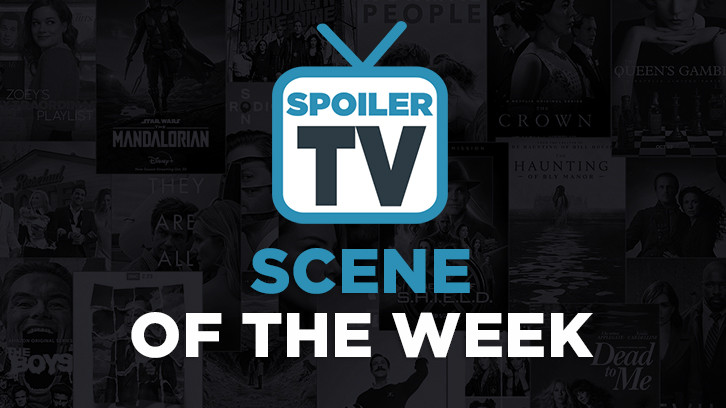 A weekly feature in which we're trying to find the most compelling, best acted, written, directed and just generally great, memorable scenes that we've seen in past seven days on TV.

BROOKLYN NINE-NINE, "Return of the King", May 2, 2019, Actor: Stephanie Beatriz
The Scene: Rosa tries to escape the room
Marko: Stephanie Beatriz was simply exceptional throughout this outing. A comedic force with perfect momentum and hilarious facial expressions to follow through every line.

COBRA KAI, "Take a Right", April 24, 2019, Actors: William Zabka, Rob Garrison and more, The Scene: Tommy's death
Zandarl: Any scene that plays Queen's "The show must go on" is bound to bring a tear to your eye. This one certainly did for me. Johnny Lawrence goes for a final road trip with some of his Cobra Kai buddies. His friend Tommy is dying so his pals break him out of hospital. After drinks and a bar fight they set up camp and he and Johnny have a heart to heart. Everyone wakes up the following morning to the fact that Tommy is gone. As this happens we see Kreese taking over teaching kids at the dojo while Johnny is in the woods looking on as others try to revive his friend. A powerful scene indeed. His death certainly affects Johnny and it affects us all who know as we get older not all our friends are still with us.

DEAD TO ME, "It's All My Fault", May 3, 2019, Actors: Linda Cardellini, Christina Applegate and more
The Scene: Judy goes to jail for Jen (picked by Mads)

GAME OF THRONES, "The Long Night", April 28, 2019, Actors: Maisie Williams, Alfie Allen, Isaac Hempstead Wright, Vladimir Furdik and more, The Scenes: Arya defeats The Night King & Theon's sacrifice
Justyna: I absolutely loved the entire sequence set to Ramin Djawadi's "The Night King". The music was beautiful and it felt both powerful and deeply sad to watch everyone's final stand against the Night King and his army. Jon struggles to reach Bran but is stopped by undead Viserion, the crypts are overrun with wights and the dead have almost defeated all our main characters. Jorah can barely stand but is still defending Daenerys until his last breath. And finally there's Theon who heroically fights off everyone coming after Bran. When he eventually falls and the Night King is almost ready to strike Bran that's when everything changes and Arya appears (seemingly out of nowhere) just in time to destroy the Night King and his entire army. It feels both impossible to believe and fitting with Arya's story at the same time. Everything she's been through, everyone she's lost, all the training she's received, it's all been leading to this - a moment when she truly gets to save her family (and everyone else). It's just satisfying to see this great victory for Arya and House Stark for once. As much as I was hoping to see the Night King in the capital, the moment he reached Winterfell and all the heroes there I didn't see another way out. So here's to Arya Stark, Avenger of the Red Wedding and Slayer of Night King. Kudos to cast & crew for all their incredible work on the episode!
Laura B: Arya defeats The Night King. For whatever reservations I have with the kind of story we've been left with and how that may dramatically change the meaning of the story, unless something else still has to give, I thought this scene, or really the action of it, played beautifully into Arya's whole story arc! Whether we are talking about 'a master of death' that uses death to fight death, or Catspaw being used as symbol that full-circled certain aspects of the series and could be seen as metaphor for House Stark's revenge and survival (Cat's Paw = an extension of Cat), or how even Arya's first taste with Braavos via her "water dancing" instructor was remembered, all made for a very powerful and memorable threw line. Also picked by Shirleena
Milo: Theon's sacrifice. The completion of one of the best redemption arcs in recent memory felt earned. Game of Thrones let Theon go out on a high, sacrificing himself to save Bran so that Arya could kill The Night King. In a wonderfully scored sequence with some of Ramin Djawadi's best work to date (which is saying something) Alfie Allen reminded the audience why he's the show's most underrated actor and deserves at least a best supporting nomination - probably moreso than the usual suspects this season.

HAWAII FIVE-0, "Ho'okahi no la o ka malihini (A stranger only for a day)", May 3, 2019, Actors: Beulah Koale, Meaghan Rath, The Scene: Junior and Tani share a slow dance
Beth: When it was obvious this pair may be something more than partners, I resisted the urge to root for them because it felt a little on the nose to have the new male and female partners turn romantic. But now that the show has taken the time and care to have these two earn their connection, it feels organic. As Junior and Tani danced, it was obvious they both had finally realized what they'd been denying and I am looking forward to the next step, whenever and whatever that may be.

IN THE DARK, "The Feels", May 2, 2019, Actor: Perry Mattfeld
The Scene: Murphy searches through the flower shop
Marko: Murphy petrified searches through the flower shop after the shooting. Perry is just tremendous in this role. The fear and tremble in her body and voice as she looked through the flower shop was just emotional and so good. The writers created a perfect atmosphere with the director doing poignant work to make us experience Murphy's emotions.

KILLING EVE, "Desperate Times", April 28, 2019, Actor: Jodie Comer, The Scene: Villanelle waits for Eve
DJRiter: In Amsterdam, Villanelle has done a very flamboyant, inventive and public assassination in Amsterdam's red-light district hoping to draw the attention to herself. The next day, she sets up shop across the street from the scene of the crime to wait for the arrival of her MI6 obsession, Eve to show up to investigate. However, when MI6 arrives it's not Eve that's been sent. Jodie Comer gives a master class in acting in this scene without saying a word. She lets her so expressive face do the talking. At first Villanelle sits there eating snacks anxious with anticipation. When the car pulls up, she becomes alert letting almost a giddy excitement play all over her face that quickly turns to shock when the agent that emerges isn't Eve Polastri. Finally, shock gives way to despair and then anger when she realizes that Eve isn't coming. And she does all of this in just a matter of seconds on screen. Comer has been on fire this season in Killing Eve and this scene is a perfect example of that.

LEGENDS OF TOMORROW, "Egg MacGuffin", April 29, 2019, Actors: Courtney Ford, Jes Macallan
The Scene: Nora becomes a member of the Time Bureau
Klutzy girl: I am loving Nora's redemption arc and am thrilled Ava asked her to join the agency. She deserves this after everything she's been through, and I can't wait to see where Nora goes from here!

LINE OF DUTY, "Episode 5", April 28, 2019, Actors: Anna Maxwell Martin, Adrian Dunbar, The Scene: Hastings' interrogation
Milo: This was the real Battle of Hastings - with the evidence stacking up against Ted, the accusations came thick and fast that boxed him into a corner and accused him of being H. He isn't helping himself, but it still really hurt to see someone as beloved as Hastings take the fall for something that he could have potentially not done. Line of Duty also made a compelling case for one of the best introductions of a new character EVER - with the scene stealer Anna Maxwell Martin knocking it out of the park having only been introduced a few minutes ago. Few characters can live up to Hastings in the interrogation room - but Martin proved that her character Patricia Carmichael can run circles around him without even trying. Also picked by DarkUFO

MODERN FAMILY, "Commencement", May 1, 2019, Actors: Sarah Hyland, Ariel Winter, Nolan Gould and more, The Scene: Haley and Luke reassure Alex
Klutzy girl: When Alex panics about life in the real world post-graduation, Haley and Luke reassure her and tell her that if they can do it, so can she. It was a sweet moment between the three of them.

NEW AMSTERDAM, "Preventable", April 30, 2019, Actors: Ryan Eggold, Jocko Sims, The Scene: Max apologizes to Floyd
Justyna: Throughout the episode it becomes increasingly painful to watch Max and his behavior, especially towards Dr. Reynolds. It's nothing like the character we know and have grown to love. And that's when the truth is revealed and it hits harder than anything before - Max's cancer is not responding to treatment. He's dying and he's spent the entire hour desperately looking for a reason behind Floyd's patient's death that would make it feel less random. Max can't begin to process that his death (or anyone's death) could be arbitrary and so completely out of his control. He has nightmares about his daughter growing up without him and he doesn't even recognize himself in the mirror. He's drowning and it's Floyd who reaches out to him and offers support, even after suffering the consequences of Max's erratic behavior. Max apologizes but it's Reynolds who ends up comforting him. Because he truly understands and doesn't blame Max for his actions, instead telling him how to go on and fight. It's great to see these two interacting, especially as it's not happening all that often. Both actors are wonderful in this emotional scene and the episode overall. Kudos!
DJRiter: All episode long Max had been acting odd, out-of-control resulting in a yelling match with Reynolds where they both said things they later regretted. After learning Max had found out that his treatment wasn't working with his cancer, Floyd understood why Max had been acting out of character. He goes to see Max and in a wonderful scene between Eggold and Sims, Max apologizes and Floyd convinces him that his life is worth fighting for. Also picked by Mads

RIVERDALE, "Chapter Fifty-Five: Prom Night", May 1, 2019, Actors: Lili Reinhart and more
The Scene: Black Hood chases Betty
Mads: I loved this scene because it was like the perfect slasher movie homage.

SUPERGIRL, "American Dreamer", April 28, 2019, Actors: Nicole Maines, Melissa Benoist and more, The Scene: Dreamer's interview
Justyna: Nia has been a great addition to the show, especially since the moment we learned more about her family and powers, but this has to be my favorite moment with her character so far. The world needs hope and without Supergirl, or rather people's faith in her, things have become rather hopeless. Stopping an attack isn't enough when the aliens continue to be forced to run and hide. That's why Kara comes up with an idea to introduce a new hero to the world and offer a glimpse of hope to all those who desperately need it. The entire interview is wonderfully done. Despite wearing a mask Nia opens up about her life, her family, the things she loves and just how wonderfully different we all are with so many things we share in common. She points out that she doesn't remember when being different became such a bad thing. Everyone is unique, everyone is important, our differences define us but so do our relationships and the things we share. Nia's admission about her family ("My mother was my heart... But my father is my spine") was beautiful, her introduction as human, alien and a trans woman was inspiring, and her listing all the little things about her ("I'm a Gryffindor...House Stark.") made it impossible not to find her character relatable. Now, that is a hero standing in the light. Everyone's reactions to the interview said it all. Just how much everything she said does make a difference to so many others. This way they no longer feel alone and against all odds they don't feel as afraid as they did before. As powerful as James' story was in this episode, this scene truly stole the hour for me. Kudos to the cast & crew and special shout-out to the wonderful Nicole Maines for all the great work!
DJRiter: Kara Danvers interviews and introduces Dreamer to the world. It was a powerful scene for new cast member Nicole Maines as Nia Nal. She declared herself to be both human and alien and her words about her parents believing that humans and aliens could live together in peace struck a great chord. Not only did she declare herself to be human and alien, she also made her stand as a trans woman. Then she went on to illustrate the most important thing, that she was just like everyone else when she went on to list her pop culture affiliations to Harry Potter, Game of Thrones and her favorite foods. It was a standout moment for the character, the episode and the show. Kudos to Supergirl co-star David Harewood for his deft direction in his directorial debut.
Zandarl: We do indeed need to embrace our authentic selves. Such a powerful message.
Ellys: "I'm Dreamer." Nia Nal might be wearing her superhero mask and costume, but she boldly shares her truth and bares her soul in her televised interview with Kara. She reveals that her father was human and her mother was alien and she herself is a trans woman. She then delivers a monologue that is beautifully empathetic. "I'm different but so is everybody. And I don't know when that became such a bad thing. The greatest gift we can give each other is our authentic selves and sharing that." It's almost a given by this point in her work on the show that Nicole Maines will gift viewers with glimpses of her own authentic self through this portrayal that shouldn't have to be heralded as groundbreaking. Here though Maines lets Nia shine, lets her sincere calm heroism radiate into the unsettled world. Her truth is timeless. As she says, sharing truth and accepting the truth of others is what creates real strength. "So, here I am. I am both human and alien. And I am a trans woman. S'mores are my favorite dessert. But I will always choose salty over sweet. I broke my nose when I was 15 during a game of kickball. My mother was my heart." With her speech, Nia embraces every single part of her identity...her strength, her grief, her quirks, her heart....and it's impossible to not feel a sense of victory that everyone should get to find within themselves. "I love Thursdays and April. And nerdy boys who think too much." (Here the perspective changes to Brainy and Lena, both of whom are "leaking" tears as they watch.) And I'm proud of all that I am." To quote Brainy, "What does love feel like?" Pretty sure it feels like watching this phenomenal scene.

THE 100, "Sanctum", April 30, 2019, Actors: Richard Harmon, Eliza Taylor and more, The Scene: The ending
Milo: This was how to create a twist. In an episode that featured a callback to the pilot it was only fitting that the hour ended with a surprise, in this case coming in the form of Murphy singing The Waterboys' This is The Sea without a care in the world. The revelation that this new utopia was not everything that it appeared to be had an immediate, dramatic impact - and the show knocked it out of the park that made sure audiences won't be able to wait until episode two.

THE GOOD FIGHT, "The One Where Kurt Saves Diane", May 2, 2019, Actors: Christine Baranski, Gary Cole, The Scene: Diane runs home to Kurt
Laura B: Diane runs home to Kurt after learning that the voting machines have been discarded. It's one of those episodes again where really it was the whole episode that made everything work, but I thought this final scene just really struck a chord that Kurt took the next step to get Diane out of trouble even if it could ultimately work in Trump's benefit, but it left Diane feeling relieved and I think loved, because she had reservations about going along with it from the start.

THE VILLAGE, "Couldn't Not Love You", April 30, 2019, Actors: Grace Van Dien, Michaela McManus
The Scene: Katie and Sarah argue on the street
Marko: Writing an emotional and powerful mother-daughter storyline is very hard and as a major Gilmore Girls fan there are tough shoes to fill in. The way Sarah and Katie went at each other as they were torn by the secrets Sarah kept from Katie broke my heart. The emotions these two ladies put into the scene were beautiful and heartbreaking.

VEEP, "Super Tuesday", April 28, 2019, Actors: Timothy Simons and more
The Scene: Jonah finds out the truth about his father
Shirleena: Jonah finds out that his father in law / stepfather is actually his father. Which means Jonah married his half sister.