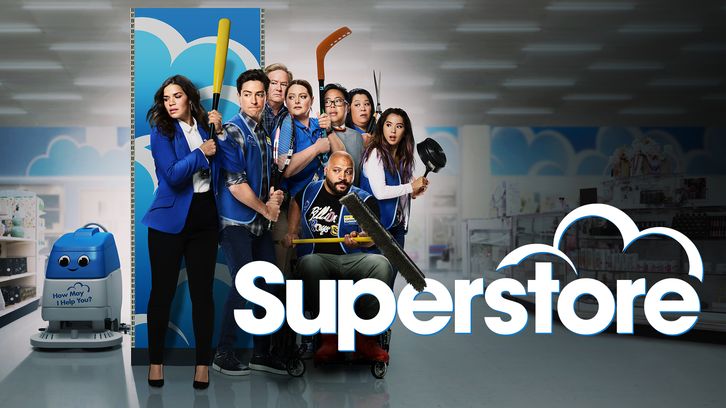 It's been a very long hiatus, and I, for one, am extremely glad that Superstore is back in a big way. This week's episode, "Video Game Release" was one of my favorite episodes of the season. Can America Ferrera please direct more episodes?


The cold open introduced us to the titular "Video Game Release". A bunch of nerds (and I say this in the most loving way. Please don't ask to see my nerd card in the comments) are lined up outside Cloud 9 to buy a game called "Barbarian's Gate 3". Inside the story, Glenn (Mark McKinney) is giving his employees a pep talk. I particularly liked the discussion on minimizing tramplings that came out of the cold open. I also liked how Amy (America Ferrera) expressed that she'd like to play the game, because character development! Yay!
After the cold open, the episode branched into three plots, all of which were successful in their own way.
First, after Dina (Lauren Ash) tells Amy that she is not allowed to set aside a copy of the video game for herself, Jonah (Ben Feldman) convinces Amy that she should anyway. When they can't get past the gate where all the video games are being held, Jonah spies another door to get into the storage room. This leads to him and Amy looking through blueprints in Glenn's office and finding a secret door, leading into a series of maintenance tunnels that ostensibly lead to the video game storage area. Jonah and Amy journey through the tunnels.
In their journeys, they land on the room where all of the recalled items the store has ever had is stored. This leads to one insanely fun sequence. Amy and Jonah play with the recalled merchandise, leading to a very intense toy gun fight. They even end up playing a border-crossing board game and drinking the same thing they drank in Superstore's pilot --
awwwww
. As they sit on the floor of the room, playing the board game, Jonah offhandedly remarks that one day Amy may come to like him, and there's a look on her face that indicates that she already does. America Ferrera's expression was perfect.
Later, they escape the recalled items room and journey further through the tunnels. They eventually end up locating a door that seems like it would go to the storage facility, but instead leads into a currently occupied changing. After some hilarious awkwardness, Amy and Jonah exit the changing room.
Amy doesn't end up getting to put aside a copy of the game for herself, but Jonah manages to snag one for her. Amy invites him to watch her play, but he declines, saying that he has to meet up with Kelly. She's crestfallen, and she later admits to Dina (in a really well-written moment) that she has a crush on Jonah.
This may be my biased shipper goggles talking, but I really loved the Jonah/Amy story in this episode. The secret tunnels idea was absolutely zany, and it shouldn't have worked, but it did. This episode really emphasized how far their friendship has come. The episode also revealed Amy's "aha" moment and crush on Jonah in an organic way. It wasn't overdone or dramatized; it was simple, it was sweet, and I really liked it.
While Amy and Jonah were traipsing through tunnels, the other employees were trying to get work done. Most notably, Glenn and Sandra (Kaliko Kauahi) were trying and failing to get the nerds to assemble into a line. Dina manages to do the job that they couldn't, and she chastises them for being too soft. They resolve to become tougher.
As part of their tough transformation, Glenn and Sandra are given a slo-mo walk to badass music. Their walk is interrupted by a woman passing by with her baby stroller, but it quickly resumes once she passes. I've gotta commend whoever chose the music for the episode, because it was perfect. Following their walk is a montage of Glenn and Sandra embracing toughness and rudeness. Unfortunately, their rudeness to a breastfeeding customer provokes her to start a nurse-in with several of her friends.
I really enjoyed seeing
Superstore
break Glenn and Sandra out of the comfortable places they've been in. The irony of seeing two such soft characters be mean was funny. I especially liked seeing the consequences of their toughness, especially the staff meeting where Glenn tries to deny his involvement.
Superstore
's staff meetings always provide good comedy, and this episode was no different. The miscommunication and misunderstanding trope is always something that the show manages to use well, and the staff meeting scenes have become something I look forward to.
Glenn and Sandra weren't the only ones acting out of the ordinary. To celebrate the release of the video game, the store invites voice actor Erick Evans (Phil LaMarr) to come and sign autographs. Garrett (Colton Dunn) considers Erick to be one of his idols, and proceeds to make a fool of himself in front of Erick. He even goes on a senseless "you're not better than me" tirade.
It was really interesting to see Garrett not be the cool guy for one episode. Though some of the awkwardness and second-hand embarrassment got to be a bit too much at times, I thought that the story was a great idea to pursue.
Last paragraph but definitely not least important, can we all just say that America Ferrera did a great job directing this episode? "Video Game Release" was so great, and she contributed a lot to it. The episode grabbed ahold of my attention, and never let go. The plots were all unique and out of the box. Every single one of Dina's insults towards the nerds landed absolutely perfectly. This was the kind of episode that reminded me why I fell in love with
Superstore
and made me look forward to the rest of the season.
What did you think of "Video Game Release"? Would you have acted like Garrett in front of your favorite celebrity? How do you feel about the progression of the Amy/Jonah relationship? Share your answers in the comments below!