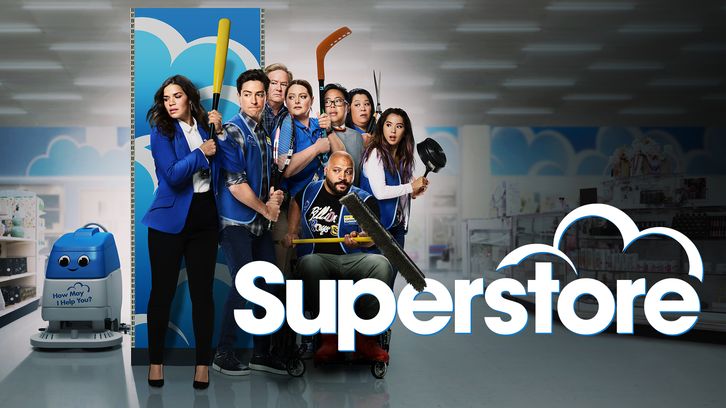 Not gonna lie, I pretty much assumed that Superstore would always stay the little bubble that is the NBC Cinematic Universe (Good Girls has visited Cloud 9, I'm calling it a cinematic universe now, don't @ me) and pretend that it was the only kind of big box store that mattered. Well, "Target" proved me wrong, as we ventured into, you guessed it, Target (my personal favorite type of big box store).

The cold open featured the world's awkwardest going-away party. My intense second-hand embarrassment prevented me from fully enjoying the opening, though I think the callback to Sandra's (Kaliko Kauahi) lies about Jeff (Michael Bunin) was nice; Kaliko Kauahi pulled off Sandra's slight creepiness every well, though after this, I wonder what her relationship with her boyfriend is really like.


The Target-poaching sequence was enjoyable; I liked seeing Garrett and Glenn increasingly fail to turn the Target employees and marvel at the beauty of Target. I also liked the twists the writers added at the end, what with Jeff not really having a job at Target,
While Glenn and Garrett are at Target, Amy (America Ferrera) and Dina (Lauren Ash) are at lunch; Dina takes Amy on a double date. While Dina's date is fine, Amy gets stuck with an old man. Fortunately for Amy, she spots Cloud 9's beverage delivery guy Alex (Vladimir Caamano) in the restaurant and uses a business meeting with him as a distraction. However, she actually really hits it off, and he even swings by the store later.
Overall, "Target" was a surprise, and it opened up a lot of threads I hope it will explore in future episodes. I enjoyed it.
What did you think of "Target"? What's your favorite Big Box store? Would you have been one of the poached workers? Share your answers in the comments below!