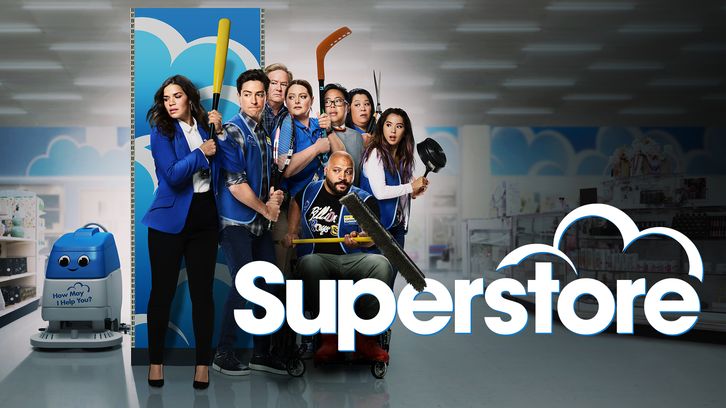 Before we get into this week's review, I'd like to say that I read many of your comments from the last week's review, and I have a confession to make: I was wrong. While I still stand by my dislike of last week's episode, I understand all your feelings that the preceding Superstore episodes were a bit weak compared to the rest of the series (and my feelings that they were stronger probably stemmed from the blur that comes from watching a show too fast).

Glenn: "I know we don't specifically promise 'no dead bodies', but we shouldn't have to!"
Now that that's out of the way, what a Halloween episode, huh? For most shows, I'm apprehensive every time there is more than one episode in one season mentioning death in a title, but
Superstore
is an exception. "Sal's Dead" made me smile, and it was a good day to memorialize a character that I had almost forgotten about.
Most comedic was the gag of Cloud Nine's customers mistaking the dead body in the walls for a display. The employees are under orders to not touch the body by the country coroner, so the body stays in the walls. Despite all of Glenn (Mark McKinney)'s efforts (and maybe because of his efforts), customers flock to see the dead body. The ironic humor was really great. I also enjoyed seeing how all of Glenn's efforts to get people to stay away sounded like the things you'd say to get someone into a haunted house instead.
Meanwhile, Jonah (Ben Feldman) gets into the dating game. As he scrolls through a dating app on his phone, Amy (America Ferrera) and Garrett (Colton Dunn) make fun of him. Amy even takes Jonah's phone away from him. When Jonah goes back to work, Amy accidentally swipes right on a profile belonging to new hire Kelly (Kelly Stables). Amy tries to fix things in a multitude of ways. First, she tries to take Kelly's phone, but Kelly has already seen the swipe right notification since then.
In the end, everything seems to work out. Kelly and Jonah forgive Amy for her deception. Kelly even thanks Amy for giving her and Jonah an ice-breaker. Looks like the Amy/Jonah ship just became the Titanic! (Sorry, I couldn't resist.)
The plot was very funny, and the prank was hilarious, though I personally would have preferred anything
other
that miscommunication comedy. Do even the sanest people in sitcoms not know how to talk to each other and tell the truth? Sometimes, it's so hard to let go of the frustration in order to laugh. Superstore got me to smile this time, but I'm not sure it will work next time.
Other notes:
Is anyone else super disappointed that Jonah's costume was "The Disappearing Bee Crisis"? I mean, yes, the bee crisis is terrible and we, as a society, do need to acknowledge it, but people I saw on Twitter were guessing that it was "To Bee or Not To Bee", instead. Sure, the costume is very in-character, but puns, people! Puns!
Cheyenne was an absolute highlight this episode! I smiled every time she was on screen because her costume was so cute, and all of her makeup looks are so good. If Superstore doesn't end with Cheyenne quitting her Cloud Nine job and becoming a super rich and successful SFX makeup artist, then what is the point of having dreams?
I'm not sure if Kelly's mistaken assumptions that Amy's costume was Jennifer Lopez and Selena Gomez was funny or slightly racist.
Favorite customer moment of the night: the guy who got scared of the clown, and then proceeded to punch the clown. Topical, socially relevant television at it's absolute finest.
What did you think of this week's episode of
Superstore
? What was your favorite costume? Where do you think the Amy/Jonah ship will develop from here? Leave your answers in the comments below!